Spring Meeting
Thursday 11th April at Harleyford GC (Marlow)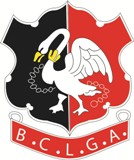 After all the rain we had had at the BB&O Girls Championships two days earlier, it was great to turn up and see the sun shining at Harleyford, albeit it was cold.
As always, we must start the report by thanking all of those who have helped to run the day:
Thank you to Gail Sharp (County Captain), who acted as starter Sally Harborne (County President) who was out on the course. Our thanks also to Iris Howell who helped check the cards when the girls came in.
Thanks to Jack and the staff in the clubhouse, who looked after us all very well.
We had a great turnout, with 17 girls playing in the stableford competition.

The winner of the Spring Salver was Lily Rigby-Walden with 40 points, second was Fraya Shiell with 36 points, on countback from Hannah Cash and Ciara Shannon was fourth with 32 points.
Picture L-R - Lily, Fraya, Ciara
Full Results (to follow)