County Championships 2022
Open to any Amateur FULL member of BCLGA with a WHS Handicap Index of 22.0 or lower.
To be held at Ellesborough GC.
Tuesday 3rd May 2022 - 36-hole stroke play qualifying rounds with Scratch & Division Handicap prizes. Includes Intermediate Championship (for players aged between 18 & 25 on 1 January 2022) – best 36-hole gross score. Saturday 7th & Sunday 8th May 2022 - Leading 16 scratch scores go through to the match play stage. Entry Forms to
Compssec@bclga.org.uk
County Champion - 2021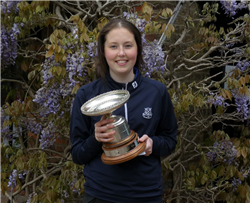 Daisy Kennedy won the County Championships at Denham GC on Sunday 23rd May.

The 36 hole qualifying was held on Thursday 20th May (results below) with the top 16 moving forward to matchplay on Saturday 22nd and Sunday 23rd.

Thanks very much to Denham GC, the course was in fantastic condition and we were all looked after very well. Thanks to all the Denham members who braved the weather on Thursday to ball spot for the competitors.

There were lots of close matches, and some fantastic play by all. The final was a very close match between Ciara Egan from Woburn and Daisy Kennedy from Harewood Downs with Daisy winning on the 18th.

Both semi finals were good battles, with Grace Rigby-Walden losing out to some great play by Daisy, and Lulu Leetham losing on the 18th to Ciara after a very close match.

See below for lots more photos.
County Championships Matchplay

[ ] in table above denotes the seeding

County Championship - Qualifying
Baxter Bowl - 2021 Intermediates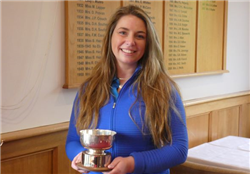 Intermediate Champions for 2021 were Lily Robinson, Woburn Gross 77 + 72 = 149 and Alice Kozlowski, Ellesborough Gross 75 + 74 = 149

Intermediates - aged between 18 & 24 on 1st January 2021