Rose Bowl - 2022
NB * denotes home venue of match [J] denotes junior
Rose Bowl 2022
Singles knockout competition for players with a minimum Handicap Index of 18.5.
Closing date for entries is 28 February 2022.

2021 Winners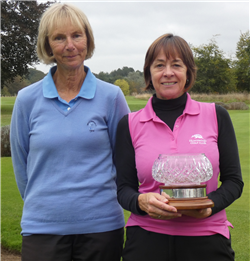 2021 winner (on the right): Sue Withey (Huntswood) & Runner Up: Sue Davies (Beaconsfield).

The Rose Bowl KO Final was played between Sue Withey (Huntswood GC) and Sue Davies (Beaconsfield GC) at Burnham Beeches GC on 18 October 2021. The referee for the match was Sue McKeon. The players had very similar handicaps, with Sue D giving Sue W just one shot.

The match was close, though a missed putt here and there led to Sue W being 4 up with 4 to play. However Sue D fought back winning holes 15 and 16 and then a half on 17 gave Sue W the win, 2&1.

The day was shared with the Challenge Cup and Summer Greensomes finalists. Players, officials and guests all sat down to a lovely tea of sandwiches and cake; prizes and the cups were then presented by the BCLGA County President Lynda Hilton.
Thanks go to the staff of Burnham Beeches GC for hosting the Competition and their generous hospitality.

Heather Pentney
KO Competitions Organiser
Results Archive
2020 - Competition was cancelled due to Covid 19.