ROSE BOWL 2023
NB * denotes home venue of match
Rose Bowl 2023
Singles knockout competition for players with a minimum Handicap Index of 18.5.
Closing date for entries is 28 February 2023.

Rose Bowl - 2022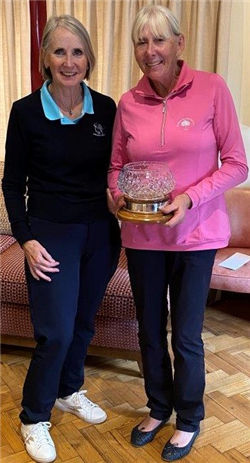 2022 winner (on the right): Maggie Southerden (Burnham Beeches) and Sue Hughes (Gerrards Cross).

The Rose Bowl KO Final was played between Maggie Southerden (Burnham Beeches GC) and Sue Hughes (Gerrards Cross GC) at Denham GC on 7 October 2022. The referee for the match was Ruth Lambert. Maggie was giving Sue 6 shots.

The match started on the 10th with Maggie having the better of the first few holes and pulling ahead. Sue then overcame her initial nerves and fought back though Maggie remained ahead at the turn. The players then traded holes with Sue taking advantage of her shot holes and reducing Maggie's lead. (Denham were having work done on a number of bunkers on the front nine which made for some interesting shots as the balls bounced in and then out in random directions). In the end and despite a late surge from Sue, Maggie emerged victorious.

Players, officials and guests all sat down to a lovely tea of sandwiches and cake; prizes and the cup were then presented by the BCLGA County President Lynda Hilton.

Thanks go to the staff of Denham GC for hosting the Competition and their generous hospitality.

Heather Pentney
KO Competitions Organiser
Results Archive
2020 - Competition was cancelled due to Covid 19.