Champion of Champions 2022
Knockout singles scratch competition open to all the previous year's Women's Club Scratch Champions in affiliated Bucks Clubs
Closing date for entries is 28 February 2022.

2021 Champion of Champions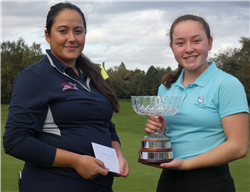 2021 Winner (on the right): Oliva Lee (Gerrards Cross) Runner Up: Amelia Curtis (Lambourne)
2021 Results
The Champion of Champions Final was played at Burnham Beeches GC on 24 October 2021. The finalists were Amelia Curtis from Lambourne GC (the defending champion) and Olivia Lee from Gerrards Cross GC. The scratch match was refereed by the County Captain, Janet Beal. The standard of golf was high with almost every hole being won with par or better and with those watching being particularly impressed by the distance both girls could hit their shots. In the end Olivia played with more consistency and emerged victorious.
Players, officials and guests all sat down to a lovely tea of sandwiches and cake after the match and the prizes and the cups were then presented by the BCLGA County President Lynda Hilton.
Thanks go to the staff of Burnham Beeches GC for hosting the Competition and their generous hospitality.
Heather Pentney
BCLGA Knock Out Competitions Organiser
Champion of Champions 2021
NB * denotes home venue of match [J] denotes junior
Champion of Champions - 2019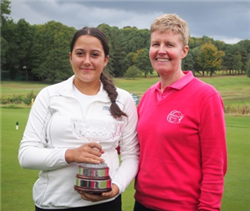 2019 Winner : Amelia Curtis (Lambourne)
Runner Up: Amy Watters (Oakland Park)

Champion of Champions 2018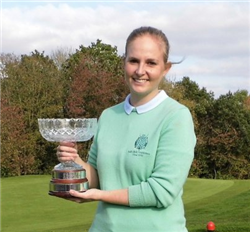 Knockout singles scratch competition open to all the previous year's Women's Club Scratch Champions in affiliated Bucks Clubs

2018 Winner : Jess Turner (Ellesborough)

Champion of Champions 2017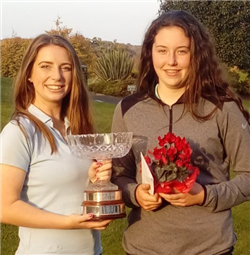 Knockout singles scratch competition open to all the previous year's Bucks Club Scratch Champions
2017 Results
The 2017 Champion of Champions finalists:-
From left: Winner - Alice Kozlowski (Ellesborough) & Daisy Kennedy (Stoke Park)